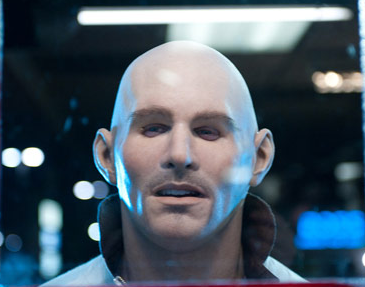 AARON BILGRAD MOVIE AWARDS 2012
A rather lackluster year for movies (and, at this point, this is someone's fault), but here were some awards for the very few I saw:
BEST MOVIES OF THE YEAR
Martha-Marcy-May-Marlene, Moneyball,Win-Win
MOST INACCURATE TITLE:  DRIVE
Like many I spoke to, I truly appreciated this movie… for the first 10 minutes.  Just an awesome scene fraught with action, tension, and ethereal fresh music — almost everyone who saw Drive raved about the FIRST 10 MINUTES.  And I'm with them — except what happened after the first 10 minutes?  I wanted to see more "Drive"ing.  I was like, "Alright, Ryan Gosling — that was a pretty cool move pulling into the Los Angeles Clippers parking lot — now how about some more of that?  And Ryan Gosling replied, "Sorry, man, that's in the past?"  "The past?"  "Yeah.  Now excuse me as I play surrogate father to a child".  "No Ryan, more driving please".  "Alright, Aaron — how about if I put on a weird Total Recall mask?" "No Ryan, more driving please".  "Alright, well… what if I shove a screw driver in someone's head?"  "No, Ryan, I already saw something like that in (the offensive) Inglorious Bastards.  (Side Note:  Upon sharing my opinion of Inglorious Bastards, people always ask me how that movie could have been offensive when it portrayed the Jews RAMPAGE-MURDERING NAZIS!!!.   "That's satisfying to Jewish people, right????!!!" No — it's offensive because that's not what happened).  Then, Gosling concluded, "Alright Aaron, what if my shadow kills Albert Brooks like in a Hitchcock movie?" "No, Ryan.  Have you seen the first 10 minutes of Drive?  More like that."
BEST MOVIE THAT I THOUGHT WOULD BE BUT WASN'T STUPID:  BRIDESMAIDS
No one can deny that (a few parts of) this movie were really funny.   Stellar performances from Melissa McCarthy, Kristen Wiig, Maya Rudolph, but mainly Melissa McCarthy, and a relatable humor that resulted in strong box office success.  I liked the movie and was fine with its critical acclaim, until reviewers started calling it "The Hangover for Women".  I supposed this comparison is rooted in the fact that both movies feature components of weddings (groomsmen, bridesmaids), but that's where it ends.  For example, Bridesmaids cleverly and subtly satirized the jealous feelings of giving 'The Best Speech' at your best friend's bridal party, with both Kristin Wiig and Rose Byrne vying to say the last word; whereas The Hangover featured tigers, Mike Tyson, clothed monkeys, car chases, and satirized absolutely nothing.
WORST FOLLOW-UP TO A MOVIE ABOUT FACEBOOK:  GIRL WITH THE DRAGON TATTOO
This movie had such a riveting trailer, complete with a PULSING Led-Zeppelin-Reznor overture that I thought I was in for an intense, rock n' roll rollercoaster ride of a film.    Instead, we got static shots of Christopher Plummer in a wheelchair, followed by a very long episode of WITHOUT A TRACE.  I'm not really into that show, and kinda checked out for most of the film.  I'm a film snob (begrudgingly), but for this movie, I put that in check, and just kept thinking, 'You know what would make me feel better about this film… if that really serious girl hooks up with that boring journalist/makeshift detective".  Then it happened a few times, but did not make me want to read the trilogy.
BEST DECENT MOVIE WITH A DISHONEST ENDING:  MIDNIGHT IN PARIS
SPOILER (but still read):  As Woody Allen said in his many interviews about this film — we all romanticize the past, thinking that some time period before us was better than our current culture.   In Midnight In Paris, Owen Wilson finds a time rip (essentially) that sends him back to 1920s Paris, partying with the likes of F. Scott Fitzgerald, Ernest Hemingway, and Gertrude Stein.  He slowly realizes that even though life back then was more fun in a way, it still had its shortcomings, and we need to appreciate the present life we have; that life isn't necessarily better somewhere else.   The movie ends with Owen Wilson divorcing his current wife (Rachel McAdams), then opting to stay in Paris instead of returning to the U.S.  We then see various shots of Wilson "embracing Paris":  visiting cafes, art houses, street vendors, etc…  But these scenes have a lonely feeling to them, and Wilson appears to be bored by sitting alone at a Parisian cafe day after day.  Woody Allen showing that anything can become rote; seemingly suggesting that even though Owen Wilson romanticized Paris over his otherwise stressful American life… Paris may be yet another example of Wilson trying to escape and avoid living in ANY current situation — Woody Allen (possibly) suggesting that maybe we all just need to take a moment and appreciate our exact current situation in life.  I felt soothed by this theme, enchanted even, as that's a GREAT point.  And THEN Woody Allen completely punts this beautifully crafted message — having Owen Wilson meet a gorgeous French woman on a bridge in Paris (in the romantic rain), and they walk off together on their way to falling in love.  That sure worked out.   I was left wanting to escape my life for the more intriguing Paris.