AARON BILGRAD MOVIE AWARDS 2016
BEST MOVIE THAT FOCUSED ON THE LEAST INTERESTING ATTRIBUTES OF A GENIUS:  STEVE JOBS
As soon as Steve Jobs died, Hollywood was foaming at the mouth to make a Steve Jobs movie.  Critics despised the original Ashton Kutcher led Steve Jobs biopic.   It bombed at the box office, and Hollywood wanted to pretend it never happened.  Multiple movie stars and directors were lined up to make the reinvigorated Steve Jobs movie.  And when Hollywood needs a go-to screenwriter, one of the first people they call is Aaron Sorkin, creator of The West Wing and (that awful show) The Newsroom.    I imagine Hollywood called Sorkin and said, "Ok, he's dead.  Time to get to it.  We will Paypal you $1 million tomorrow".  Sorkin decided he would treat himself to a $1400 bottle of scotch, and bang out the script as fast as possible, applying all of his talented writing tricks to the piece.  For example, white people telling each other off, and, more specifically, strong, intelligent white women putting strong, intelligent white men in their place (Kate Winslet to Michael Fassbender).  He created a vision for Steve Jobs' life that was unlike anything we had seen before, and arguably, never needed or cared to see.  Problem is, he ignored pretty much everything that made Jobs compelling, such as:
1. How Jobs got the ideas for all the incredible products he gave to society (even if the ideas were not his, it would have been interesting to see how they manifested, and the arguments that took place).

2. The origin of Apple (e.g. Wozniack and Jobs in the garage — for more than just one scene).
3. How Apple became a super company.
4. How he was supposedly a very difficult man to work with (To Sorkin's credit, this is in there, but only insofar as Winslet calling him 'difficult' in various ways).
5. An introspection into why he wanted to create everything he did.
Instead, we got a movie about Steve Jobs estranged relationship with his daughter.  I think I know where this came from.  Aaron Sorkin, after his 4th shot of scotch, said to himself "I need to get to the humanity of this guy.  I know I can make us care about Jobs by focusing the story about his feelings toward his daughter.  A lot of people have children, and that could really resonate".  Using this "focus on the human side" concept of a larger-than-life figure, we can deduce how Sorkin would have handled other legendary biopics:
Martin Luther King Jr.:  While MLK led an extraordinary civil rights movement, this biopic explores how he truly felt about his wife's cooking.
Sir Isaac Newton:  A man curious about the mysteries of the universe like none other, this biopic examines Newton's attitude on a day he accidentally slept in.
BEST MOVIE ABOUT AN EVIL GANGSTER WHO NOBODY WOULD WANT TO HAVE DINNER WITH YET THEY KEEP HAVING DINNER WITH HIM:  BLACK MASS
This movie is stupid on so many levels, but the stupidity I would like to focus on is the multitude of dinner table scenes with Whitey Bulger, the terrifying gangster who kills everyone.  Basically, all of Whitey's cohorts eat dinner with him.  They invite him to everything, and they love having him around.  They drink, laugh, share some funny stories, but if you say just one wrong word, and Whitey Bulger suspects you are disrespecting him or you are a rat or whatever, he quietly threatens you in this witty, calculated way, and makes you think you could die at any moment.  How is this guy fun?  And sometimes he does kill you.   There was a dinner scene like this in the first popular trailer, but there are many more in the movie.  The odd thing is that throughout the movie, all of Whitey's gumbas say what a cool guy Whitey is, and they actually mean it.   I kept thinking that, at some point, all the gumbas would say to each other, "Look… let's do business with Whitey, but let's not eat or drink with him, because he kills us sometimes if we make a bad joke".  Here is the trailer to show you what I mean — this is pretty much the whole film:

BEST MOVIE THAT MAY NOT HAVE WORKED AS WELL IF THE LEAD ACTRESS' EYES WERE BROWN:  BROOKLYN
Brooklyn is a simple, steadily paced, charming little film about an Irish immigrant's (the Oscar nominated Saoirse Ronan) first months in America.  Saoirse was born with the most beautiful, beaming blue eyes, and I have to assume that the director realized this, given the 466 shots in which Sairose looks longingly at what's in front of her (e.g. the beach, the Statue of Liberty, other things).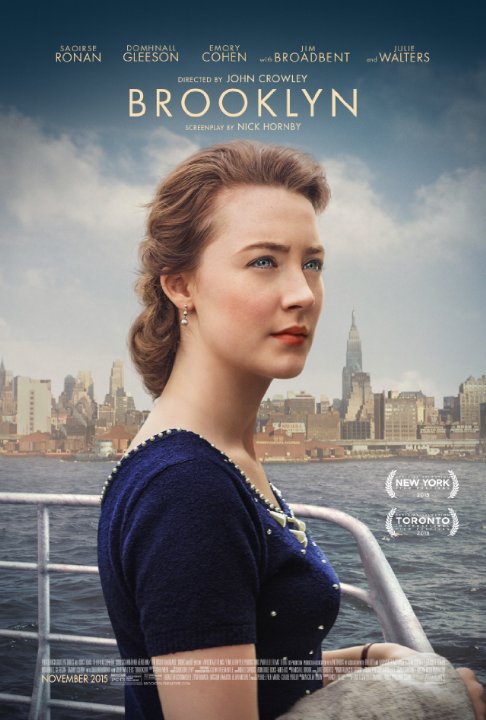 This is likely also the reason the producers chose one of these many 'looking at stuff' shots as the movie's poster (to the right).  But I get it.  Those are incredible eyes that absolutely allow you to enter and swim around in our protagonist's soul.  We too get to feel what it's like to be an outsider in 1940s New York, and experience the wonderment that is youthful freedom.   She doesn't even have to speak, she just has to stare and we are left just as breathless as she feels.  While watching this movie, I kept imagining the director giving Saoirse such helpful directions such as "Okay, in this scene, your character is falling in love, but, if you're unsure how to play that, don't sweat it, just keep your eyes open", or "It's very important that you don't blink".   I just wonder if this movie would have worked if she had boring 'ole brown eyes.  Then it would have been impossible to interpret her feelings.
BEST MOVIE MADE WITH THE SPECIFIC INTENT OF NETFLIX GETTING AN OSCAR:  BEASTS OF NO NATION
In the last few years, Netflix has been on a mission to become a mainstream media outlet.  Their Netflix original television shows have won Emmys, thus blurring the lines of what is considered "television".  Netflix is now a go-to destination for quality TV shows.  However, while Netflix has certainly changed the movie industry, they still don't have the big shiny statue for that one.  And they definitely wanted to take a shot at it.  But, in order to win an Oscar, just like with everything else they do, they needed to take a calculated approach.  They needed to appeal to the senses of Oscar voters, and really convince them that this is "a movie to be taken seriously".  I imagine their checklist looked like this:
1) Set it in Africa.
2) Just like every movie ever set in Africa, make sure to use overly dramatic, wailing African music.  (Seriously, I think it would be refreshingly daring if someone set a movie in Africa, and juxtaposed the poverty imagery with Billy Idol's "Cradle Of Love")
3) Make the movie about children.  Nobody wants anything bad to happen to children, and Beasts Of No Nation will courageously shine the light on the truth that, yes, bad things are, in fact, happening to children in Africa.  Is anything bad happening to African children in Star Wars?  No.  So look over here Oscar voters.  Maybe they should have put Steve Jobs' daughter in the movie too.

4) Make the movie from the perspective of a child, and give him a depressing voice-over to boot.  Nobody will make you realize just how bad being a child soldier is than the actual child who is experiencing it.  Hello Academy???? Are you there????  (Note:  Don't expect to hear the little boy protagonist ever say something along the lines of "Ya know what, this isn't so bad")
5) Be sure to juxtapose the horrors of the African civil war with the gorgeous landscapes of the continent.  This will make the viewer instantly understand the irony you are going for, and the Oscars love the idea of painful irony.
6) Get the guy who filmed all the ugly-beautiful, painful irony imagery from True Detective Season 1 to film this movie.
7) Cast Stringer Bell to get you an acting Oscar nomination (and he probably should have, but, you know, Steve Jobs).
BEST MOVIE THAT WAS MEANT FOR TEENAGERS, BUT WAS INEXPLICABLY LIKED BY ADULTS:  IT FOLLOWS
This small-little-horror-movie-that-could from early 2015 made waves with a cute, eerie premise that seemed to work for people.  Here is the official synopsis of the movie from the movie's website:   What if you had sex with someone and they transferred a curse to you that caused a ghost to follow you until it eventually kills you.  Oh, and by the way, only you can see the ghost chasing you.  The ghost pursuing you can change into whatever form it wants, no matter how random it may seem to Aaron Bilgrad.  Keep in mind that sometimes the ghost will resemble your mother (to really catch you off guard, which makes sense) and other times it will arbitrarily, for shock value, be a teenage girl pissing all over your kitchen floor or a fat naked man on your roof, which Aaron Bilgrad will find a bit strange.  SPOILER ALERT:  Even though the movie begins with some horrifying imagery that makes you truly feel like you are in for a disturbing experience, the movie concludes with a girl dodging toasters in a swimming pool.

And here are the best movies I saw in 2015 in descending order:
8. IN THE GOOD, BUT WILL BE FORGOTTEN BY NEXT YEAR CATEGORY:  (THE REVENANT, SPOTLIGHT).  Ok, got those out of the way.
7. HOT GIRLS WANTED:
Netflix still may get that Oscar in the documentary category, but it won't be with this film.  They have (I think) 3 films up that are more Oscar-appropriate:  'Cartel Land' about the drug cartels in Mexico, Winter On Fire about the Ukraine, and one about Nina Simone, because, seemingly, everyone likes Nina Simone because they feel they should — namely people who have dinner parties.   However, the movie they put out in the summer, Hot Girls Wanted, about how the pornography industry exploits younger women was quite poignant and impressive.  The female subjects of the film are bright and fascinating, and they share an interesting perspective on the dark world of amateur pornography.  The best, most interesting part is their take on the 2014 scandal of the Duke student turned adult film actress (Belle Knox).   Belle tried to glamorize her films as "sexually liberating", but the girls in this film comment that the industry is anything but, and she was grossly misrepresenting it.

6. INSIDE OUT:
I liked it for the same reasons you and your 5-year old did.
5. MAD MAX:  FURY ROAD
Every action movie should be held to this standard.  No CGI, just literal fast and furious filmmaking.  Also, the script is actually pretty good.  For example, "Hope is a very dangerous thing.  If you don't figure out what's wrong and fix it, you will go insane".  Good advice.

4. SICARIO
Another movie that I wish was the norm for action thriller.  Incredible pacing and a captivating energy you can get lost in.   Benicio Del Toro gives us another memorable character, and the last 45 minutes are a heart-pounding blast.

3. THE HATEFUL EIGHT
I have not been a fan of Tarantino for the past 7 years.  I hated Inglorious Bastards, thought Death Proof was ridiculous, and didn't much care for Django Unchained.  However, I was intrigued by his new film, as it was Tarantino in an enclosed environment, meaning just charismatic characters, fun story, and Tarantino dialogue.  While this film definitely takes some patience, the second half was a lightning ride of a good time.  I keep playing lines from the film over and over in my head.  He took a break from annihilating nazis and slave owners and really buckled down to give us a well-paced, enjoyable story with some strong acting performances from Samuel L. Jackson and Walton Goggins.  I'm now back on the Tarantino train, and hope he continues to challenge himself creatively as he did here.
2. THE BIG SHORT
I read this book, and always thought it was an incredible story.  When I heard Adam McKay (director of multiple Will Ferrell movies) was directing this movie, I had my doubts.  But he did such a great job explaining the situation before the financial crash of 2008 (which most would agree is difficult to grasp — even the book explains it like 50 different times).  Not only this, but every scene in the movie is filled with likable energy, and the comedy works, as the film acts as a marvelous showcase of just how stupid these Wall Street and Real Estate people were. The movie is enjoyable from front to end.
1. THE END OF THE TOUR
This one gets the top spot because of its heart.  While I haven't read a ton of David Foster Wallace (No, I haven't read Infinite Jest), I have read enough of his short stories and essays to be a fan, and recognize his unique talents.  This movie profiles the relationship between David Foster Wallace (Jason Segel should have received a Best Actor nomination) and his interviewer as they take a road trip to his final book tour stops.  This movie, with the script largely taken from the actual audio recordings during their trip, captured a portrait of David Foster Wallace that should make everyone want to go out and read his books.  It stripped away the glamour of having accolades and acclaim in the literary world (or of any kind) and showed the true troubled soul of a genius (unlike the piece of trash that was the Steve Jobs movie).
For past Aaron Bilgrad Movie Awards, click HERE