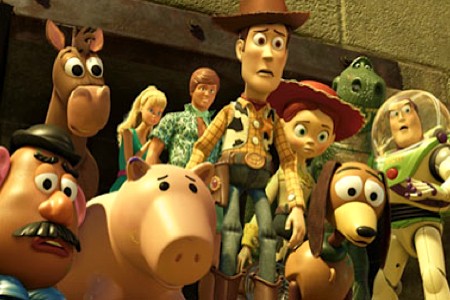 AARON BILGRAD MOVIE AWARDS 2011
I didn't get a chance to see many movies this year (because I didn't want to go), but here are some awards for the movies I did see.
BEST MOVIES OF THE YEAR:
The Social Network, Exit Through The Gift Shop, Red Vengeance
BEST 'SNEAK AROUND' ADVENTURE: TOY STORY 3
Many remember this movie (and series) with tender heart.  Every 5 years or so we get to hang out with Woody, Buzz, Slinky Dog, Dinosaur, Pig, Potato, alien, horse, and Woody's Quasi-Girlfriend.  That's nice, but my only memory of this third installment was watching the toys sneak around a lot.  In between emotional scenes of growing up/feeling abandoned, I merely recall watching the toys crawl through vents, hide behind posts, repel from trees, and avoid flashlight beams.  Here is the subtextual essence of Toy Story 3:  Toys Are BACK, heartstrings, This-Isn't-Like-Andy's-Room, Sneak Around, Trouble, Phew!, Life Goes On, Emotional Silver Bullet, Randy Newman.
BEST PSYCHOLOGICAL THRILLER THAT ISN'T PSYCHOLOGICAL: BLACK SWAN
This movie definitely seeped into the pop cultural lexicon.  However, whenever I overheard rhetoric about Black Swan, it was never about the story.  A few girls I know dressed as Natalie Portman's Black Swan for Halloween, but I think that's the extent they connected with Portman's character.  In fact, only 1 of them had seen the film.  The other item discussed publicly:  The greatness of Mila Kunis, and how she should be nominated for an Oscar.  I heard nothing from my peers about Portman's psychological devolution into madness.  Nobody wanted to hold discourse on how Portman, in a state of hysteria, stabbed herself to death with a glass shard before achieving a blissful perfection.  Nobody wanted to wax poetic about the ways in which all suffer (in some way) to be great.  Why didn't anybody want to get coffee and discuss these topics late into the night?  I think it's because, deep down, everybody thought Black Swan (and it's theme) was pretty stupid.  Better to focus on that eye-liner.
BEST MOVIE ABOUT FRIENDSHIP:  THE TOWN
Right?
MOST EXPOSITIONAL MOVIE OF ALL-TIME:  INCEPTION
I thought this film was fantastic!!  It was so awesome how much they explained what was happening!! There were even moments when I wanted to ask the movie a question, but didn't need to because Ellen Page asked for me.  Thank GOD she was up on screen or I wouldn't know what was going on.   My only complaint is that the characters didn't take time to explain more to her.   I would have liked to hear more about what happens during a dream.  Here's an idea:   It would be cool to have an interactive DVD where YOU can play Ellen Page's character!!  Yes, you see yourself in the film, and DiCaprio and Joseph Gordon-Levitt explain, in great detail, every rule of the Inception universe — directly to YOU — for 45 minutes.   I can only assume that all the fans of this film were as rabid about exposition as I was.   So what's YOUR opinion on the spinning top at the end?  Here's mine:  I didn't care.
MOST HARMLESS MOVIE OF THE YEAR:  THE KING'S SPEECH
The only difference between The King's Speech and The Karate Kid is…
Bottom Line:  This may be the most digestible movie in years.  It's almost scientifically engineered to make you like it.  If the producers of Transformers know exactly how to attract a crowd, the producers of King's Speech know exactly how to win an Oscar.  Think about the engine of this film and why you enjoyed it.  At its core, the film is about whether or not Colin Firth will be able to articulate a speech.  It's an underdog story.  I get it.  But, after seeing it, I remembered the following:  Every Wednesday in 2nd grade we had a speech therapist named Mrs. Cork come to class.  She was about 53 years old and would take students into another room.  These students had speech impediments of some kind — a stutter, lisp, fear of speaking in public, etc…   For their well-being, I hope they corrected their disorder.   But even if one of them were to become the President of The United States…  I wouldn't want to see a movie about their journey with Mrs. Cork.